Beginning of the Journey
Shannon Shell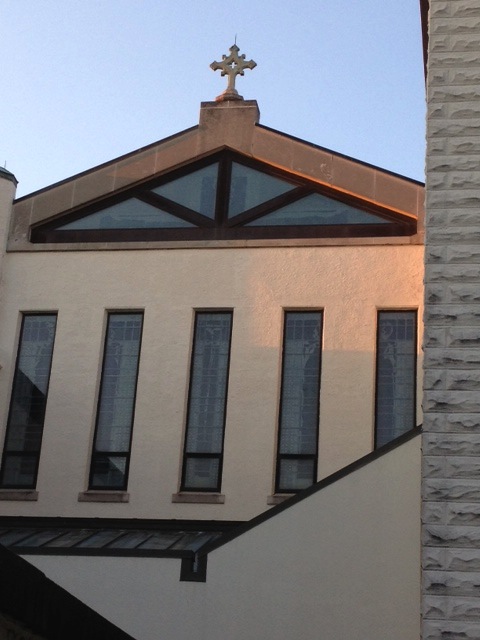 After the annual LCG gathering at Gethsemani in September 2016, I began a year of travel across the country with the intention of staying at monasteries along the way. I was fortunate to have generous family and friends who lived in different states and invited me for extended visits to their homes. This, in turn, allowed access and time for trips to various monastic retreats in the region. In addition, because I traveled alone by car, my itinerary was flexible and allowed for stops to religious sites for day visits when opportunities presented.
What prompted this extended time for travel? It was a growing desire to be more present and to step away from the well-worn routines, commitments, and attachments of my daily life. Over the years, visits to the Abbey of Gethsemani had nourished this desire to simplify my life and make God a priority. It was here at the Abbey steeped in deep silence, prayer, and surrounded by natural beauty, that my mindfulness of God's presence was heightened. It also awakened a realization of how impoverished my daily life was by the many distractions and demands that endlessly piled up and by my inability to always put God first in my daily activities.
Over time, after taking this to prayer, again and again, it became increasingly clear that, for me, a radical change of lifestyle was required in order to shake loose from my entrenched routines and habitual distractions. Not without a certain amount of fear, I finally trusted a recurring call to just "let go" and trust God. What was surprising was how positive this plan to spend a year of travel to monasteries was received by family and friends, as opposed to the discouragement I had anticipated. After a period of preparation, I took an extended leave of absence from work, downsized my possessions to what I could carry in my car, and left town on an open-ended trip. A journey, in faith, that would take me across the country in search of the monastic retreats I had grown to love.
I have kept a journal of these destinations as a means of processing my experiences. The monasteries I visited are all treasures of spiritual life freely open to being shared with all who come. Yes, there were some differing customs and charisms. The locations varied from remote to urban, desert to mountain. Yet all offered a unique opportunity to participate in the beauty and peace of the monastic experience.
The result of these unconventional travels is that I have been blessed more than I could have imagined. I hope to write about these experiences in future entries.