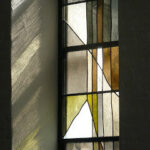 Who We Are
We are a diverse community of Christ centered people seeking the will of God above all else through what seems an unlikely path, an ancient monastic tradition under the guidance of a1500 year old rule for monks. We live our lives trying to order them according to The Rule of St. Benedict in the tradition of the Cistercian (Trappist) monks.
Our community members seek to apply in our daily lives the studied devotion to God exemplified by the Cistercian Order.  Members are active in one of our eight local communities  to support and nourish each other as we learn and practice the lay Cistercian charism.  We also strongly encourage Friends to live the lay charism though they are unable to meet regularly as Members.
Sacred reading, simplicity and silence, regular prayer and the daily Divine Office, as practiced for over 900 years by the Cistercian monks, are among monastic elements which inspire and infuse our daily lives as laypeople.  We seek to transpose the cenobitic, monastic life into the key of "lay."  The application is conveniently guided by our Plan of Life which assists in this transposition.
Members of our eight local communities study and share sacred reading and assist each other along our personal spiritual path.  At monthly local community meetings our personal development is nourished as we realize and together meet the challenge of seeking and applying God's will in a secular age.  But more: we dig deeply into the Cistercian charism for elements which nourish our conversion of manner and heart.  Our journey is sustained by regular communication among our members and enhanced by recognition of LCG by the Gethsemani conventual community which regularly shares communications from the Abbey including homilies, lectures, Chapter Talks, Bible readings and non-scriptural readings as recited daily at Gethsemani.
Our History
History—short version:
Beginning in 1987 a few laypeople, gathered occasionally at Gethsemani monastery, were welcomed by a sensitive monk who consistently and joyfully offered support. This Father Michael, then guest master now Prior, sensed the visitors' spirit was consistent with that of his monastic brothers seeking God.
These laypeople, nourished and linked by the Gethsemani hospitality and charism, loosely formed a community gathered annually to share their sense of wonder at this opening of God's grace in their lives.  The community organized to create greater stability as they helped each other to apply their desire for simplicity and daily prayerful devotion in lives outside the monastic enclosure.  Fr. Michael, other monk advisors, and lay representatives affirmed the Plan of Life, our founding document which aspires:
to serve as a guide for Lay Cistercians in their efforts to develop, in their secular life, a contemplative spirituality according to the Cistercian tradition.  The Plan of Life reflects elements that are characteristics of the Cistercian monastic regimen of prayer, work and study.  There is an emphasis on a modification of lifestyle that is similar to monastic conversion of manners.
A decade followed with enhanced appreciation, devotion, and practice of the Cistercian way.  Others learned of the lay endeavor at Gethsemani and with bountiful energy and evangelist spirit the core inspired first two, then three, and four independent local communities (now eight) of six to twenty-five persons meeting monthly in Midwest USA cities, hundreds of miles apart yet bound to and inspired by Gethsemani and the Cistercian charism.  Devoted laypeople organized each local community to meet monthly in prayer, lectio divina, exploration of the Cistercian charism, and in common devotion as lay people in a secular world.   Support emerged for expanded communication among the communities: newsletter editors, web site managers, all with continued encouragement from Gethsemani.
Blessed with an open spirit of welcome LCG encouraged interest and applications from throughout the United States and Canada.  LCG in 2008 was incorporated as an Illinois not-for-profit corporation and expanded an Advisory Council to include representatives elected by each of our eight local communities, and empowered to encourage greater devotion, depth, and understanding of the charism in our local communities and maintain an abiding affinity with Gethsemani.  In 2012 LCG was recognized as a lay community affiliated with Gethsemani Abbey by vote of the Gethsemani conventual community and In 2015 LCG was determined a 501(c)(3) tax exempt entity.
LCG maintains devotion to the Rule of Benedict, the charism of the Cistercian Order, and to widening awareness of the lay Cistercian charism around the world.
September 13, 2016
Our history as observed and written by an early founder, Mike Johnson:
Since its founding in 1848 the Cistercian-Trappist Abbey of Gethsemani has held a revered place in the American spiritual landscape. Generations of retreatants have traveled to the knob hill country of central Kentucky for days of silence, prayer, rest and spiritual renewal that is available on retreat at Gethsemani. Find out more here.Plan of LifePlan of LifePlan of LifePlan of Life